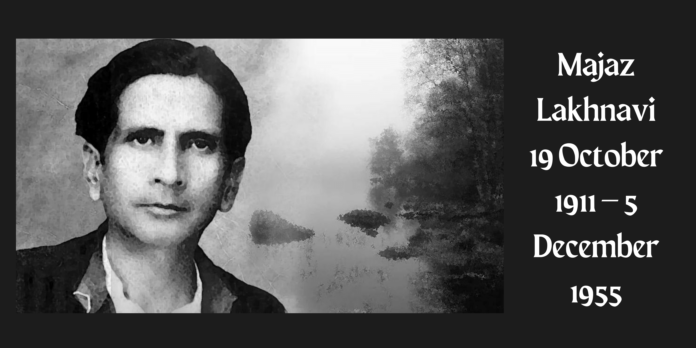 Personal Life
Asrar Ul Haque, commonly known as Majaz Lakhnavi was born on 19 October 1911 in a famous town Radoli in Awadh which is now in Uttar Pradesh. He was brought up with a lot of affection and love by his father Siraj-Ul-Haq, who was very learned and highly educated and was a very successful landlord at that time. He got his early education from school in his town and did matriculation from Aminabad School, Lucknow. The transfer of his father to Agra initiated the poetic life of Asrar Ul Haq as the poetic environment of Agra and the company of Shaheed and Fani attracted him towards Urdu poetry. Another transfer of his father from Agra to Aligarh. Aligarh, at that time was full of celebrities like Manto, Ismat Chughtain Al-Ahmad Suroor etc. He has two sisters Hameeda Salim, who was the first female graduate of Aligarh Muslim University and Safia Akhtar, who is mother of a legendary lyricist Javed Akhtar.
Majaz and Aligarh
Asrar Ul Haq took admission in BA in Aligarh Muslim University and a revolutionary, sweet accented poet came into light and likes of Sardar Ali Jafri, Jigar Moradabadi, Rahi Masoom Raza and Moin Jazbi became his companions. It won't be wrong to say that he came to Aligarh as Asrar Ul Haq and became Majaz Lakhnavi there and later he wrote a poem Nazr-e-Aligarh, some couplets of which are now being sung as AMU Tarana "Yeh Mera chaman hai Mera Chaman". Majaz, then took admission MA in Aligarh Muslim University and at the same time got selected in All India Radio and moved to Delhi. According to Ismat Chughtai, she used tease Majaz on the matter of being loved being loved so dearly by women around him and she also claims that in his Aligarh days, girls of hostel used to keep the collection of his poems 'Ahang' close to their chest.
Majaz and his love & hate for Delhi
Majaz being a moody person worked according to his mood in All India Radio and became the deputy editor of the magazine "Awaaz" of Majaz Radio. But that job of him did not last and after differences with Pitras Bukhari, he left his job. During his reside in Delhi, he fell in love with a Hindu woman who was a daughter of a noble and rich man but she turned out to be unfaithful which became a catalyst to his drinking habit and he left Delhi in haste and returned to Lucknow. His nazm "Dilli se Wapsi" denotes how Delhi treated one of the greatest poets of all time.
Demise of Majaz
As he lost out in love, his heart was shattered completely and left Delhi and came back to his watan(homeland) Lucknow and settled there. Lucknow itself failed to limit his drinking habits instead it started grow almost exponentially and pubs in the city became his address. People wanted to have an honour of drinking with the great poet. One such scene was portrayed in the Bollywood movie "Pyaasa".
The Pain in his heart didn't allow him to get married but kept catalyzing his drinking habit and he became a declared alcoholic. He first suffered his nervous breakdown in 1940, after which his parents tried fixing his marriage with a girl but at the last moment girl's parents turned down the offer as he had a reputation of being insane in the society which resulted in another nervous breakdown of him in 1945 and he had to be put in mental asylum in Ranchi.
After returning from the asylum, he came back to watch his sister Safia Akhtar die next month after his return. The demise of his sister broke him further and he became a loner and introvert. He moved to Bombay for the search of work and even tried to get into film industry but post-partition violence in Bombay didn't allow him to get into film industry.
On a chilly winter night of December in Lucknow, his 'fans' took him to a hotel roof and left him all alone after drinking till late night where he died alone in the bitter cold and in an unconscious state. In his short but struggling duration of his living days he became one of the most successful romantic poets of all time and thus became "Keates of Urdu poetry".
He's sleeping inside his grave in Lucknow beside his mother and sister Safia.
In my opinion, this sher of Majaz do justice with his life
"us mahfil-e-kaif-o-mastī meñ us anjuman-e-irfānī meñ

sab jām-ba-kaf baiThe hī rahe ham pī bhī ga.e chhalkā bhī ga.e"
Major work of Majaz
One can understand the capabilities of his pen by knowing that his poem "Awaara" overshadowed the poems of his friend and contemporary poet Faiz Ahmad Faiz and Sahir Ludhianvi's poems "Mujh se pehli si Muhabbat" and "Taj Mahal" respectively.
Majaz was a poet of nazams(poems), however his ghazals are no less brilliant, some of them are "Taskeen e dil e mahzoon na hui",  "Kuchh tujh to khabar hai hum kya kya" and "husn ko be-hijab hona tha".
His famous poems are "Tarana" of AMU, "Awaara", "Lucknow", "Dilli se Wapsi","Etiraf", "nau-jawan Khatun se" and many more.
His famous nazam was later sung by Talat Mahmood in a Bollywood movie starring Shammi Kapoor. Movie didn't perform well but the song became one of the best works of Talat Mahmood.
Majaz's grave is decorated with a couplet from his own nazam "Lucknow"
ab us ke ba.ad sub.h hai aur sub.h-e-nau 'majāz'

ham par hai ḳhatm shām-e-ġharībān-e-lucknow