"I could never take orders from anyone" – GAUTAM ADANI

Growth is incomplete without goodness. From building assets of national relevance to transforming lives through self-reliance and sustainability, our vision is balancing growth with goodness – ADANI GROUP
There is little doubt that India is the birthplace of the world's most famous billionaires. In India, family businesses have traditionally been handed down from one generation to the next. Over the course of the last several years, there has been a discernible rise in the total number of billionaires in the country. Indian business tycoon Gautam Adani is responsible for establishing The Adani Group, a multinational company that operates out of Ahmedabad in the country of India.
The company, which began operations in 1988, is now a significant participant in a variety of markets, including those pertaining to the production of electricity, the operation of ports, multi-modal transportation, the trade of coal, and mining. Being born into a family of business owners, he surely acquired the business acumen of his ancestors; nonetheless, he never demonstrated any interest in the textile business that his family owned and operated.
Gautam Adani, a young guy with lofty goals for his life, dropped out of school and moved from Ahmedabad to Mumbai in order to find job and start building his fortune. He first established himself in the diamond brokering business, during which he soon gained significant success and amassed a big fortune. He returned home so that he could provide his assistance to his brother in the management of a modest plastics plant.
Adani, always one to take risks, eventually founded Adani Enterprises, the parent firm of his conglomerate, the Adani Group. Although the company's roots are in the international trade of goods, it has since branched out into other industries such as coal mining, ports, power generation, agricultural infrastructure, edible oil and transmission, and gas distribution.
Gautam Adani is notorious as a risk-taker whose business model is predicated on extreme leverage and political influence. Comparisons to another Gujarati billionaire, Dhirubhai Ambani, founder of Reliance Industries, are commonplace in light of his meteoric rise to prominence as a first-generation businessman.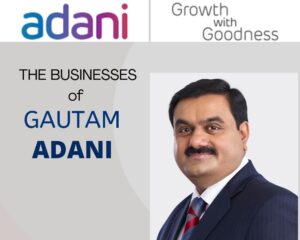 ADANI GROUP  
As of now, the Adani Group is India's third conglomerate with a market value of more than $200 billion. A number of businesses in the transmission and city gas distribution sectors, as well as the renewable energy industry, got their start there. At the moment, the corporation is concentrating its efforts in a variety of areas, including the production of solar panels, the military, airports, highways, and environmentally conscious enterprises.
The price of one month's worth of Adani Group stock climbed by more than 120%, and the price of one month's worth of Adani Wilmar shares increased by more than 87% during the same time period.
But why have stock prices increased by such a significant amount? Anyway, what exactly is going on here?
There is no way to refute the fact that this crisis is to blame between Russia and Ukraine. That is written completely right!
Because of the conflict between Russia and Ukraine, sunflower oil has been in limited supply. As a result, people have been turning to other oils such as groundnut oil, mustard oil, soybean oil, and so on. In addition, Indonesia is the world's largest producer and exporter of palm oil, despite the fact that it has been forced to cut back on its exports in order to maintain a healthy domestic supply.
Adani Wilmar is in an excellent position to increase its profits and strengthen its leadership position in the industry for the remaining time remaining in the current fiscal year. This is because the price of oil is on the rise.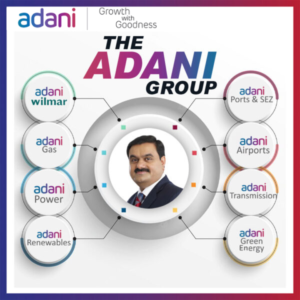 Adani Group of Companies
The Adani Group is one of India's largest integrated infrastructure companies, with holdings in the following industries, and it is worth $ 13 billion.
Adani Enterprise Limited
Adani Enterprises is a startup accelerator with a particular focus on the energy and infrastructure industries. Since its inception and public debut in 1994, it has consistently maintained this status. Several subsidiaries of Adani Enterprises, including APSEZ, Adani Power, and Adani Transmissions, have been demerged and/or independently listed on public exchanges.
Market Cap: 22,909 Cr.
ROE: 5.38 %
Sales Growth (3Yrs): 5.89 %
Promoter holdiing92 %
Debt to equity: 0.61
Price to book value: 1.46
Adani Ports & Special Economic Zone Ltd
One-fourth of all cargo moved in India passes through Adani Ports and Special Economic Zone Limited (APSEZ), making it the largest commercial ports operator in India. It's the parent company of the Adani Group's other businesses.
It has the most extensive national footprint with strengthened hinterland connectivity, with a total of ten domestic ports spread across the six marine states of Gujarat, Goa, Kerala, Andhra Pradesh, Tamil Nadu, and Odisha.
Market Cap: 77,715 Cr.
ROE: 17.52 %
Sales Growth (3Yrs): 15.40 %
Promoter holding: 62.46 %
Debt to equity: 1.24
Price to book value: 3.12
Adani Power Ltd
The largest privately owned thermal power producer in India is Adani Power Limited (APL), which has a total capacity of 12,450 MW from thermal power facilities located in Gujarat, Maharashtra, Karnataka, Rajasthan, and Chhattisgarh as well as a 40 MW solar power project in Gujarat.
Market Cap: 24,395 Cr.
ROE: -318 %
Sales Growth (3Yrs): -2.00 %
Promoter holding: 74.97 %
Debt to equity: 5.04
Price to book value: 2.53
According to the Clean Development Mechanism (CDM) of the Kyoto Protocol, Adani is the first business to establish a coal-based Supercritical thermal power facility. Although the company only entered the power production market in 2006, it was able to take advantage of the Adani Group's expertise in project management to construct its first power plant, in Mundra, with minimal delays and maximum output.
Adani Transmission Ltd
Adani Group's involvement in transmission dates back to 2006, even before the formation of Adani Transmission Limited (ATL).
With the purchase of Reliance Infrastructure's Power Generation, Transmission & Distribution Business in Mumbai in 2018, ATL made its first step into the distribution sector. Adani Electricity Mumbai Limited (AEML) has a distribution network that spans over 400 sq. km., and they currently serve over 3 million consumers in the Mumbai suburbs and the Mira-Bhayender Municipal Corporation in the Thane region.
Market Cap: 38,114 Cr.
ROE: 12.65 %
Sales Growth (3Yrs): 49.33 %
Promoter holding: 74.92 %
Debt to equity: 1.93
Price to book value: 4.11
Adani Green Energy Ltd
One of India's major renewable energy firms, Adani Green Energy Limited (AGEL), has a current project portfolio of 5,290 MW. The Company creates utility-scale grid-connected solar and wind farm projects and then constructs, owns, operates, and maintains them. The federal, state, and government-backed enterprises are given access to the electricity produced.
Market Cap: 30,123 Cr.
ROE: -43.43 %
Promoter holding: 74.92 %
Debt to equity: 13.26
Price to book value: 15.58
Adani Gas Limited
Adani Gas is constructing City Gas Distribution (CGD) networks to distribute Piped Natural Gas (PNG) to the Industrial, Commercial, Domestic (home), and Transportation sectors. Natural gas is a safe, dependable, and environmentally friendly fuel that provides consumers with a high level of safety, convenience, and economic efficiency.
Market Cap: 19,192 Cr.
ROE: 24.29 %
Promoter holding: 74.80 %
Debt to equity: 0.27
Price to book value: 15.14
In the cities of Ahmedabad, Vadodara, Faridabad, and Khurja in the Indian states of Gujarat, Haryana, and Uttar Pradesh, the corporation has already established city gas distribution networks. The gas distribution projects in the cities of Allahabad, Chandigarh, Ernakulam, Panipat, Daman, Dharwad, and Udhamsingh Nagar will be developed by a joint venture between Adani Gas Ltd and Indian Oil Corporation Ltd.
Over the past 30 years, the Adani group has grown into a global player with businesses in key areas like energy, resources, logistics, agriculture, and more.
Mr. Gautam Adani is the CEO of adani Group. He has been in business for more than 33 years. Under his leadership, Adani Group has become a global player in integrated infrastructure with interests in Resources, Logistics, and Transportation.