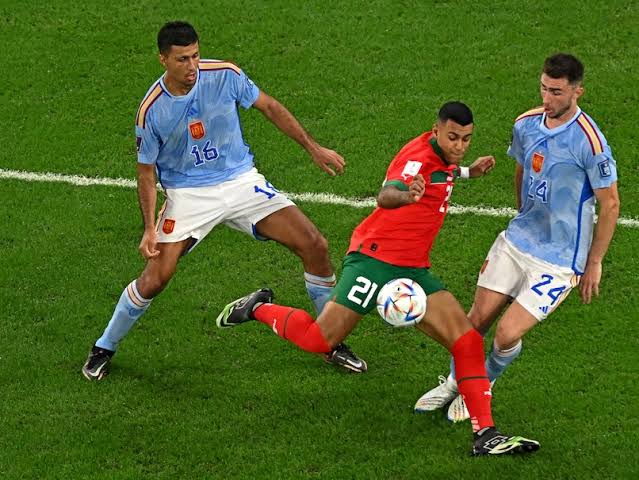 I was very happy when I learnt that Morocco beat Spain in the pre quarter final of the World Cup 2022 soccer tournament in Qatar today, and I want to state why.
My principle is very simple. In all walks of life, in all spheres and activities, I am always with the underdog, always with the weaker fighting the stronger, always with the poor against the rich, always with David against Goliath.
In this connection I may relate an incident. I was invited by my dear friend Michael Steiner, the then German Ambassador to India, to witness the 2014 World Cup final between Germany and Argentina in the German Embassy, displayed on a huge screen ( along with many other invitees ). Throughout the match I supported the Argentine team, though it lost 1-0, by cheering it. In fact when the first goal was scored by Argentina I stood up, raised my hand, and cheered loudly, perhaps to the consternation of Michael, but it was declared offside by the linesman .
Next day Michael telephoned me and asked me why I was supporting Argentina. I replied that I am not against Germany, but it is a matter of principle with me. I always support the underdog. Argentina is a poor underdeveloped country, while Germany is developed and rich, and I always support the poor against the rich.
In the World Cup 2022 I was happy when in the opening rounds Tunisia beat France, South Korea beat Portugal, and Iran beat Wales. This was because an underdeveloped country beat a developed one. I was also happy when Saudi Arabia beat Argentina and Cameroons beat Brazil, because though all these countries are underdeveloped, Argentina and Brazil were the stronger teams, and I always support the weak against the strong.
I saw the Spain vs Morocco match. Spain is a top international team in soccer, whereas Morocco is unknown. Yet the Moroccans fought like lions and finally won ( the first Arab team to qualify for the quarter finals in the World Cup tournaments ), which made me very happy
So I am always happy when David beats Goliath.