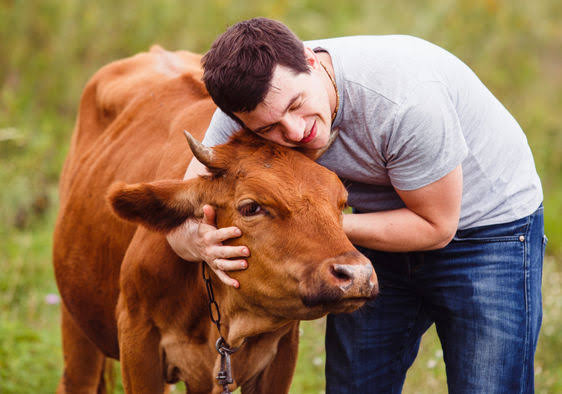 Valentine Day will be celebrated on 14th February this year.
Evidently the present ruling party in India does not approve of erosion of Indian ( meaning Hindu ) culture by such foreign immoral customs. In the past rightwing vigilante groups, who have often engaged in the moral policing of women, have attacked shops selling Valentine's cards and decorations and targeted couples seen holding hands. Much of the anti-Valentine's rhetoric has been targeted at women, alleging that the holiday encourages female promiscuity, vulgar behaviour and corruption.
Hence the Indian Government wants people to celebrate 14th February as Cow Hug Day, instead of Valentine Day.
https://time.com/6254254/india-cow-hug-day-valentines/
The Animal Welfare Board of India, a government advisory body, has in a statement criticised the "dazzle of western civilization" and emphasised how Vedic traditions are in danger of disappearing because of the "progress of western culture over time." In light of this, the Animal Welfare Board urged people to embrace cows, which it described as the "backbone of Indian culture and rural economy". It has appealed that 14th February be celebrated as 'Cow Hug Day'. According to the statement of the AWBI, hugging a cow "will bring emotional richness" and "will increase our individual and collective happiness".
https://www.theguardian.com/world/2023/feb/09/india-urges-citizens-to-hug-a-cow-on-valentines-day#:~:text=In%20a%20new%20appeal%2C%2014,the%20animals%20into%20an%20embrace.
https://timesofindia.indiatimes.com/india/mark-february-14-as-cow-hug-day-govt-body/articleshow/97747805.cms
https://economictimes.indiatimes.com/news/india/animal-welfare-department-appeals-to-celebrate-cow-hug-day-on-14-february/videoshow/97768106.cms
Some people have made fun of Cow Hug Day.
https://www.livemint.com/news/india/govt-appeals-to-celebrate-cow-hug-day-on-valentine-s-day-netizens-react-11675915042273.html
https://www.aljazeera.com/news/2023/2/9/indian-govt-says-hug-cows-on-valentines-day-twitter-cracks-up
https://www.dailyo.in/social/replace-your-valentine-with-a-cow-this-valentines-day-cos-feb-14-is-now-cow-hugging-day-38866
But I am serious about it, and think it is a good move.
I am quite willing to celebrate Cow Hug Day. But how can I hug a cow when I dont have one ? And I cant be expected to go on the street hugging stray cows which I find there.
So I request the government to provide me with a cow which I can hug.
Moreover, how can I be sure I wont be gored by the cow's horns when I hug it ? So either the government provides me medical insurance, or a cow with no horns.
It appears from the videos below that cows don't like being hugged
https://www.youtube.com/watch?v=Q0Nz-7jlrF4&pp=ygULY293IGh1ZyBkYXk%3D
https://www.youtube.com/watch?v=uaZDN9t0hkE&pp=ygULY293IGh1ZyBkYXk%3D
Some years back I suggested that Bollywood make a film called 'Rise of the Planet of the Cows'
https://www.inuth.com/trends/planet-of-the-cows-markandey-katju-takes-a-dig-at-gau-rakshaks-in-hilarious-facebook-post/
I reiterate that suggestion. I am sure it will be a far bigger box office hit than Pathan