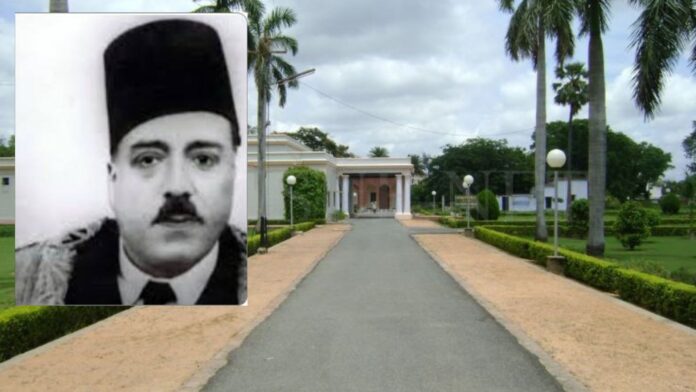 Sir Ross Masood was the grandson of Sir Syed Ahmad Khan and the only son of Syed Mahmud. He, like his father and grandfather, possessed extraordinary abilities. He had inherited intelligence and mental potential from both of them, in addition to their love for Muslim University. In his short life spanning 48 years only, he made utmost use of all the skills he was blessed with and left an indelible impression.
Sir Ross Masood was born in Aligarh on February 15, 1889. Sir Syed Ahmad Khan, his grandfather, was overjoyed at his birth and took him under his tutelage from the very beginning. He spent the first nine years of his life under the care of his parents and grandfather. He began his primary education at Aligarh's Madrasatul Uloom. In 1898, he lost his grandfather, and in 1903, he lost his father as well. Later, after passing the matriculation examination in 1905, he went to England on a government scholarship and was admitted to New College, Oxford, where he received his B.A. in 1910, and then entered 'Lincoln' in London for Barrett's Law degree, which he received in 1912.
At the beginning of his career, he started practising law in Patna. Around 1913, he was appointed the headmaster of Government High School, Patna. In 1914, he married Zehra Begum, the daughter of Aftab Ahmad Khan, from whom two sons Anwar Masood and Akbar Masood were born. In 1915, he was designated as a Professor at Cuttack College and a year later started working as a Professor of History at Ravenshaw College, Cuttack. Soon he was nominated for the post of Director of Education in Hyderabad and held the position till 1928. He got divorced from his first wife in 1928 and soon left for Europe for treatment. In 1929, Sir Ross Masood was elected as the Vice-Chancellor of Aligarh Muslim University. He served the university for four and a half years with full zeal and enthusiasm.
As Vice-Chancellor of Aligarh Muslim University, he provided a long list of services. Here is an overview of a few of them:
(1) Construction of science block in the university.
(2) Construction of excellent and spacious science laboratories.
(3) Appointment of promising teachers for imparting science education.
(4) Construction of Masjid Musharraf Begum along with the construction of the University Market.
(5) Construction of Aftab Hostel.
(6) Construction of Training College.
(7) Naming of all the roads of the university.
(8) Reform of the education system.
(9) Initiation of Theology education at graduation level.
He resigned from his position as Vice-Chancellor in 1934. There was widespread pressure to withdraw following his resignation, but he stood firm in his decision. After resigning from the university, he travelled to Germany for treatment of ailments related to the heart and kidneys. On his return, at the request of Nawab Hamidullah Khan of Bhopal, he accepted the position of Minister of Education and Public Affairs in Bhopal State. On July 30, 1937, he passed away in Bhopal. The body was later transported by train to Aligarh and interred alongside his grandfather, Sir Syed Ahmad Khan, in the university mosque.
Professor Iftikhar Alam Khan, one of the most well-known Sir Syed scholars had once said, "Sir Syed Ahmad Khan and Syed Mahmud had only built a college, and it was Sir Ross Masood who truly transformed it into a university". In this statement, there may be a hint of exaggeration, but it is very meaningful in the description of Sir Ross Masood's achievements. A quick look back at the early days after the formation of Muslim University reveals that Sir Ross Masood played a significant role in truly moulding it into a university. These sentences are not meant to diminish the importance of others, but the fact is that Sir Ross Masood's era saw some significant educational reforms, and the buildings built during his tenure as Vice-Chancellor of Aligarh Muslim University, particularly the science departments and laboratories, are still standing tall.
Sir Ross Masood's brief biographical sketch demonstrates how his brief life was filled with a variety of responsibilities and accomplishments. He was both a scholar and a successful administrator, as well as a great critic of Urdu and English literature. Throughout his life, he was fascinated by history and the arts, particularly poetry, painting, and music. His personality was a perfect fusion of eastern and western civilizations on the one hand, and on the other, a beautiful combination of the best knacks of his grandfather and father.