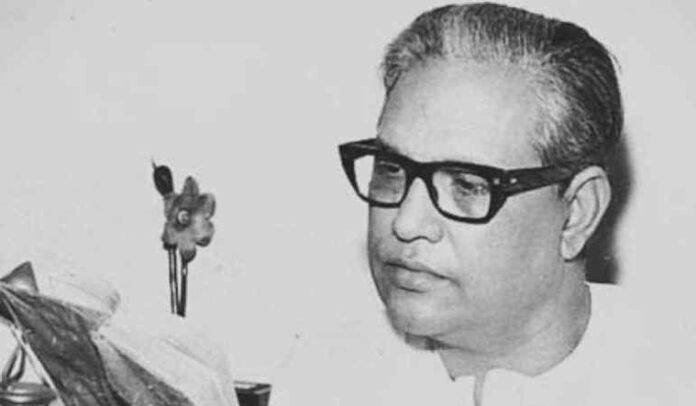 This ghazal, by the Urdu poet Majrooh Sulanpuri, is perhaps the greatest revolutionary poem ever written anywhere in the world.
jala ke mashaal-e-jaan hum junoon-sifaat chale
jo ghar ko aag lagae hamare saath chale
darya-e-sham nahin manzil-e-sahar bhi nahin
ajab nagar hai yahaan din chale na raat chale
hamaare lab na sahi vo dahan-e-zakhm sahi
vahin pahunchti hai yaaro kahin se baat chale
sutoon-e-daar pe rakhte chalo saron ke charaagh
jahaan talak ye sitam ki siyaah raat chale
hua aseer koi ham-nava to duur talak
ba-pas-e-tarz-e-nava ham bhi saath saath chale
bacha ke laae ham ai yaar phir bhi naqd-e-vafa
agarche lutte rahe rahzanon ke haath chale
phir aai fasl ki maanind barg-e-aavaara
hamaare naam gulon ke muraslaat chale
qatar-e-shisha hai ya kaarvaan-e-ham-safaraan
khiram-e-jaam hai ya jaise kaayenat chale
bula hi baithe jab ahl-e-haram to ai 'majrooh'
baghal men ham bhi liye ik sanam ka haath chale
This is one of the finest ghazals written by the great Urdu poet Majrooh Sultanpuri. It is a revolutionary poem, and was written when Majrooh was invited to Pakistan.
However, the poem may be initially difficult to understand. That is because Urdu poets often do not write in direct language, but indirectly, by indications, hints, and metaphors. Also, they often do not use the language of the common man ( Ghalib, for instance, had a horror of the commonplace in writing poetry ). Hence they often use Persian or Arabic words which the common man does not understand, but this gives their poetry elegance and sophistication.
Urdu poetry has often a literal, outer but superficial meaning, and a real, inner meaning, which the poet is really trying to convey, by using metaphors, hints, indications, allusions and suggestions.
This poem of Majrooh has been written almost entirely metaphorically, and must not be understood literally
Its real meaning is given below :
1. Meaning of the first sher ( couplet )
Mashaal means torch, sifaat means attribute or quality.
So the sher means : Having lit the torch of my life ( i.e. having become a revolutionary ), I am gong on in a crazy manner. In other words, revolutionaries are somewhat crazy.
2. Meaning of the second sher
Darya means river, manzil means goal, seher means morning.
So the sher means : In this strange town, a land of oppression ( where the poet finds himself ) there is neither evening, nor morning. In other words, he is so engrossed in his revolutionary work, that morning and evening have no meaning for him ( as he is working for the revolution all the time ).
3. Meaning of third sher
Lab means lips, dahan means mouth, zakhm means wound.
Even if the revolutionary cannot speak ( because he is in jail ), the people get the know his message by the wounds of his mouth ( i.e. they get to know it when they learn he has been badly beaten in jail ).
4. Meaning of the fourth sher :
Aseer means arrested, humnava means one who talks like me, nava means voice, tarz means tareeqa, ba means with.
So the sher means Someone arrested who talks like me ( i.e. a fellow revolutionary ) will be accompanied by me with the same voice.
5. Meaning of the fifth sher
Sutoon means pillar, daar means jail, chiraagh means lamp, sitam means oppression, siyaah means dark, so siyaahraat means dark night
Which means : place the lamps of your heads on the pillars of the jail as long as this dark night of oppression lasts.
In other words, be prepared for atrocities on you as long as this oppressive period lasts
6. Meaning of the sixth sher
Wafa means loyalty, rehzan means thief
We have preserved our loyalty ( to the revolution ), despite robbers looting us
7. Meaning of the seventh sher
Fasal means crop, but it can also mean season, maanind means like, barg means leaf,, awaara means scattered, murasilaat means something sent or despatched.
This sher is metaphorical, and must not be understood literally
The correct interpretation of this sher is that in this season ( i.e. time ) of revolution, like scattering of leaves, revolutionary people and revolutionary ideas will spread everywhere, like the scattering of leaves during a storm
8. Meaning of the eigth sher
Qataar-e-sheesha means jug of wine, hum saafron means fellow travellers, khiraam means graceful movement, e means of, jaam means bowl, kaayanaat means universe.
The poet is asking whether the revolutionary ardour is like a jug of wine, or a caravan of fellow revolutionaries ? Is his revolutionary spirit like the movement of wine in a bottle, or the way the universe moves.
In other words, while on the long revolutionary path, a revolutionary sometimes wonders whether he is deluded ( like Defarge in Charles Dickens' novel 'A Tale of Two Cities', who sounds depressed when speaking with Madame Defarge ).
9. Meaning of the ninth sher
Haram means the Kaaba, the holiest place in Islam, sanam means one's beloved.
This sher must also be understood metaphorically.
Its literal, superficial meaning is that since Majrooh had been invited to ( a supposedly ) holy place i.e. Pakistan, he has come with a beloved.
Its real meaning, however, is that since he had been summoned by the revolution, Majrooh has come with his revolutionary passion