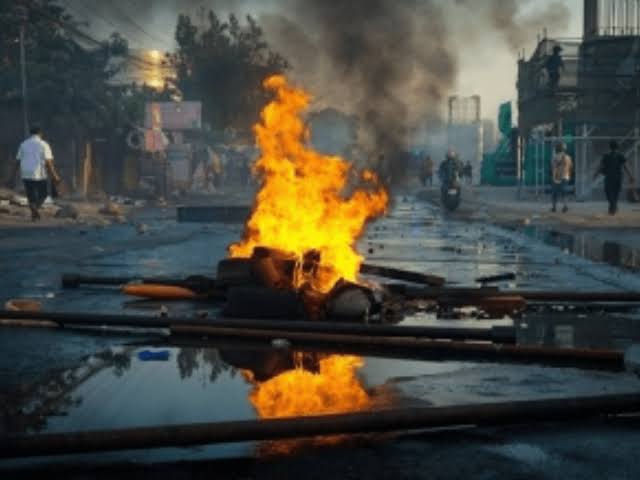 On March 31, during the Ram Navami procession, a 110 year old madarsa called Madarsa Azizia, in Nalanda district of Bihar was set ablaze by a Hindutva mob. There were more than 4500 books in it, including the holy Quran, which were burnt in the fire. This madarsa was established by Bibi Sogra, said to be the most charitable woman in the history of Bihar, in the memory of her husband Abdul Aziz.
https://maktoobmedia.com/india/110-year-old-madrasa-and-library-set-ablaze-by-hindutva-mob-during-ram-navami-rally-in-bihar/amp/.
Ram Navami is a Hindu festival celebrating the birthday of Hindu god Rama. It falls on the 9th day of the Chaitra month every year in the Hindu calendar, usually during the months of March–April ( this year it fell on 31st March ).
This festival involves puja and processions of Hindu worshipers through cities.
There is nothing wrong in celebrating Ram Navami. In fact it is part of freedom of religion guaranteed by Article 25 of the Indian Constitution. But the Ram Navami processions in Muslim majority areas in India are often turned provocative by Hindutva groups e.g. by shouting Jai Shri Ram before mosques and/or insulting Muslims, leading to communal violence
Lord Rama himself has been turned into a political emblem of the RSS family of organisations, and the Ram Navami processions are led by or turned into provocative displays by militant Hindutva organisations such as the Vishva Hindu Parishad (VHP) and Bajrang Dal.
The same happened on Ram Navami day this year in many parts of India.
https://thewire.in/communalism/ram-navami-violence-2023
https://www.newindianexpress.com/nation/2023/mar/30/communal-clashes-during-ram-navami-processions-in-aurangabad-vadodara-and-howrah-2561081.html
https://news.abplive.com/videos/news/ram-navami-communal-clashes-ground-report-from-howrah-where-incident-took-place-abp-news-1592474
https://www.thehindu.com/news/national/other-states/communal-tensions-in-two-bihar-towns-post-ram-navami/article66686863.ece
https://www.livemint.com/news/india/clashes-during-ram-navami-processions-in-west-bengal-parts-of-india-top-points-11680191207701.html
https://www.newsclick.in/communal-riots-and-violence-name-ram-navami
Mosques, dargahs, and shops owned by Muslims were attacked during these processions. Is this the way to celebrate Ram Navami ?
https://www.thenewsminute.com/article/ram-navami-violence-list-communal-incidents-4-states-162789.
https://www.abplive.com/videos/news/what-is-the-reaction-of-public-on-ram-navami-violence-ram-navami-violence-janta-zindabad-abp-news-2372066
https://www.youtube.com/watch?v=4RmkCJN0JOc
In the Ramayan it is mentioned that Ram behaved like a father to the people in his kingdom Ayodhya
https://indicanews.com/2022/10/19/lord-ram-treated-all-as-children-katju/
A good father takes care of all his children, not just some of them. So also, Lord Ram looked after the welfare of all his subjects, not just some of them. Had he been the king of India today he would have looked after the welfare of Muslims too, not just Hindus, and would have severely punished those committing atrocities on Muslims.
It is obvious that those committing atrocities on Muslims in India ( who are only 15-16% of India's population ) in the name of Lord Ram are lumpen elements, a disgrace to India on which they have brought shame, who know nothing about Ram.