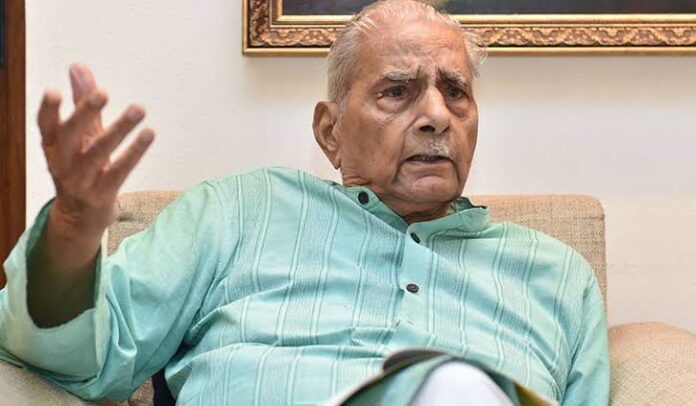 The senior lawyer of the Supreme Court and former Union Law Minister, Mr Shanti Bhushan, died on 31st January this year at the age of 97..
Some time before his death, perhaps in November 2022, that is,11 years after my retirement from the Supreme Court, he invited me for lunch at his residence in Noida. Present there were his sons, Prashant and Jayant, both prominent lawyers of the Supreme Court, and a few others.
The lunch was in my honour, and though a strict vegetarian and teetotallar himself, he arranged for gin and beer, and excellent Kashmiri non veg dishes like roganjosh and yaqni, knowing that I enjoyed them. We discussed several issues, and reminiscenced about our days in Allahabad High Court.
Mr Shanti Bhushan and I go back a long way. I joined the Allahabad High Court bar as a junior lawyer in 1970, where Mr Shanti Bhushan was already one of the top lawyers of the High Court, having been Advocate General of UP in 1969.
He told me that when he was very young, and still a student in Allahabad University, his father Mr Vishwamitra wanted him to appear in the IAS examination, but he was adamant in becoming a lawyer. So his father took him to the residence of the eminent lawyer Sir Tej Bahadur Sapru, hoping that Sir Tej would dissuade his son. However, Sir Tej agreed with the son, and that is how Shanti Bhushan became a lawyer. Had he become a civil servant he would have retired at the age of 60, whereas as a lawyer he kept practising till in his 90s, and reached great heights.
Though much senior to me in the Allahabad High Court bar, he developed an affection for me, and often gave me good advice. I remember once a case of mine which I thought was very good was dismissed by a judge, and he saw me crestfallen in the Bar Library. He asked me what happened, and I told him. He then asked " Markandey, have you not argued cases which you thought were weak, but the judge thought otherwise, and gave you a favourable order ? ". I said yes. He then said that that balances the matter. There are ups and downs in law practice, and one should not get upset if he loses a case.
Mr Shanti Bhushan became a national figure after winning the election petition in the Allahabad High Court against Indira Gandhi in 1975, which declared her election void, and disqualified her for 6 years from contesting elections. This resulted in imposition of Emergency in June 1975 in which fundamental rights of citizens under the Constitution were suspended, and thousands of people all over India were incarcerated in jail for long periods on trumped up charges ( whose validity was unfortunately upheld by the Supreme Court in ADM Jabalpur vs Shivakant Shukla ).
After the fake Emergency was lifted in March 1977 and Parliamentary elections held, the Janta Party came to power. Shanti Bhushan was appointed Union Law Minister in this govt. He introduced and got passed the 44th Constitutional Amendment which repealed most of the provisions of the infamous 42nd Amendment ( which had been passed during the Emergency ).
Mr Shanti Bhushan had shifted his practice to the Supreme Court soon after the verdict against Mrs Gandhi. After Morarji Desai ceased to be the Prime Minister in 1979 Shanti Bhushan, who was the Law Minister in his govt, reverted to the bar of the Supreme Court, and soon had a lucrative practice.
He and some other prominent lawyers of the Supreme Court set up a Committee of Judicial Accountability to probe into charges of corruption by judges e.g. Justice YK Sabharwal, Justice PD Dinakaran, Justice Punchi and others. He once submitted a sealed envelope before the Supreme Court stating that 8 out of the previous 16 Chief Justices of India were definitely corrupt, and 2 more were questionable.
https://economictimes.indiatimes.com/news/politics-and-nation/eight-chief-justices-were-corrupt-ex-law-minister/articleshow/6568990.cms
He was asked by the court to apologise, to which he replied " The question of apology does not arise. I am firmly of the belief that there is a lot of corruption in the judiciary, and I am prepared to go to jail for this ".
In the Ghaziabad Provident Fund Scam case ( Nahar Singh Yadav vs Union of India ) there were serious allegations against 36 sitting judges, including a sitting Supreme Court judge and several Allahabad High Court judges. The Secy Gen of the Supreme Court, allegedly at the instance of the then CJI KG Balakrishnan, ordered the police investigators not to put questions to the judges before the questions were sent to the CJI and approved by him. Shanti Bhushan accused the judiciary of shielding corrupt judges.
Shanti Bhushan challenged the 39th Constitutional Amendment which prohibited judicial review of election of the Prime Minister and President, and succeeded in getting it struck down by the court. He argued that if the Constitution is amended by naming a dictator, and giving him power to nominate his successor, it would not be amending the democratic Indian Constitution but scrapping it.
When I became the Chief Justice of Delhi High Court in October 2005 I called his younger son Jayant and said I wanted to recommend his name for judgeship of the High Court, but he politely declined to give his consent. Had he been appointed then he would probably have been in line of becoming the Chief Justice of India.
When I became a Supreme Court judge Shanti Bhushan would often appear before me. Once I teased him by saying " Aap to gyani hain " ( you are a seer ), to which he wittily replied " My Lord, I will immediately apply for the estate of Gyani Zail Singh ( the former President of India, who had passed away ), since you have declared me his heir ".
On another occasion I told him that there was a defect in him, which was that when arguing a case he sometimes gets excited, whereas a lawyer should always remain cool. I told him that he should learn from his son Jayant, who never gets excited. The next evening Shanti Bhushan entered the chamber of Jayant when the latter was holding a conference, and said he had got instructions from Justice Katju to attend Jayant's chamber and learn advocacy.from him. So he would come once a week for this purpose.
Shanti Bhushan wrote his memoirs in his book 'Courting Destiny', a copy of which he presented to me. I found it very enjoyable reading.
I met Mr Shanti Bhushan several times after my retirement in parties, etc and he was always happy to meet me, as it reminded him of his days in Allahabad.
May his soul rest in peace.