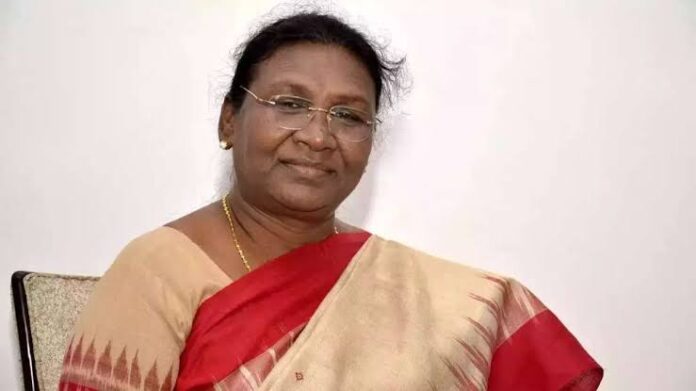 I have never met Droupadi Murmu, the first tribal and the second female President of India, and I had hardly heard her name till she became President.
https://en.wikipedia.org/wiki/Droupadi_Murmu
But all this changed, and I have become her ardent admirer after hearing on youtube her nine minute Hindi speech on the occasion of Constitution Day in Delhi
Addressing a distinguished audience including the Chief Justice of India, other Judges of the Supreme Court and High Court, the Union Law Minister, the Attorney and Solicitor General of India, other learned lawyers, jurists, etc, the President first gave her prepared speech in English, and then switched over to Hindi, and spoke ex tempore from her heart.
Speaking slowly and in a low voice, she said she was born in 1958 in a small village in Odisha, where there were no facilities. The people of the village regarded teachers, doctors, and lawyers as gods.
After she joined politics ( she had initially been a clerk and then a teacher ) she became a member of the State Legislative Assembly. She visited many jails in her state, and found people languishing there for 20, 25,or 30 years. She also visited jails in Jharkhand, after becoming Governor in that state. Some prisoners had committed minor offences like slapping some influential person. As a result false charges had been framed against them, and they were sentenced to long terms in jail. Due to poverty many could not afford good lawyers or get some other help, and so had to remain in jail for long periods.
She said jails in India were overcrowded, and there were demands for more jails. But with more jails would society be moving forward or backward, she asked ?
This short speech, delivered softly and modestly, struck the whole nation like a thunderbolt, and immediately went viral on the internet. In sweet language she spoke bitter truths which needed to be said.
The President spoke of ills which lie at the core of our society. India is a poor nation, and the President, in so few words, narrated the plight of the poor, who were often implicated and imprisoned on false charges, and could not get justice because of their poverty. On the other hand, the rich people who committed crimes were often roaming around freely.
This reminds us of Jean Valjean, one of the protagonists in Victor Hugo's famous novel 'Les Miserables', who had only committed the petty crime of stealing a loaf of bread to feed his sister's starving family, and as a result was imprisoned in jail for 19 years.
https://en.wikipedia.org/wiki/Jean_Valjean
It also reminds us of Capt Dreyfus who was falsely accused of being a German spy merely because he was a Jew, and was kept in Devil's Island in French Guina for several years, until released following Emile Zola's famous article 'J'accuse'.
https://en.wikipedia.org/wiki/Dreyfus_affair
https://en.wikipedia.org/wiki/J%27Accuse…!
The President also said that some prisoners would prefer to remain in jail because if they came out they would be shunned in society. In other words, there were no rehabilitation schemes to make them honourable members of society again.
After hearing this speech I made some enquiries about Droupadi Murmu, and came to know of the great tragedies in her life. Her two sons died in an accident, and her husband died due to depression shortly thereafter. Then within a short period she lost her mother and her brother also.
The fact that despite her great personal tragedies she has retained her composure, and speaks for the poor of the nation, is a tribute to a truly great lady.
The Hindi poet Rahim has written :
" Deen sabhan ko lakhat hain, deenahi lakhay na koi
Jo Rahim deenahi lakhay, deenbandhu sam hoi "
i.e.
" The poor seek help from everyone, but no one helps the poor
The person who helps the poor becomes like God "
( In Hindi poetry God is often called 'deenbandhu' which means a friend of the poor ).
To my mind the Indian President is also a deenbandhu