Professor Asghar Abbas, former professor of Urdu and Chair at Aligarh Muslim University and a renowned Sir Syed scholar, died aged 80 on September 7, 2022 in New Delhi after a brief illness. Professor Abbas leaves behind a legacy of Urdu scholarship based on archival sources and a world of perfect manners and genuine relationships. During his tenure as the Director of Sir Syed Academy, an academy where books, manuscripts, letters and other papers and artifacts related to Sir Syed Ahmad Khan are preserved, he associated a number of young and experienced scholars with works of Sir Syed and his associates, developing a rich resource of secondary literature on Sir Syed. He also initiated many projects to get the works of Sir Syed translated into English, a work that was later taken up by his successors in Sir Syed Academy.
Devoted to Sir Syed and his mission all his life, Professor Abbas would always motivate promising young scholars to spare some time to read Sir Syed's works and write on him or translate his works. Often when I ran into him in the premises of the University he would exhort me to work on Sir Syed. He once gave me a copy of Sir Syed's Musafiran-e-London and asked me to translate it into English, a work that I started but could not finish. He firmly believed that all students, teachers and alumni of Aligarh Muslim University owe a debt to the founder of their university which they must pay in some form. He himself edited quite a few volumes of Sir Syed's works which include Shazrat-e-Sir Syed: Aligarh Institute Gazette se Intikhab(Selections from Aligarh Institute Gazette), Sir Syed's Scientific Society, Musafiraan London, and Sir Syed's Taziyati Tahrirein.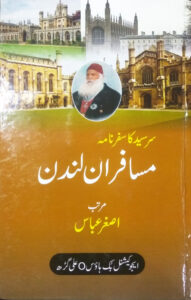 His book Print Culture: Sir Syed's Aligarh Institute Gazette 1866-1897(Primus Books, 2015), ably translated from the Urdu by Syed Asim Ali, is a good resource to trace Sir Syed's career as a journalist. A man of many parts, Sir Syed was undoubtedly a pioneer of Urdu journalism in India. In an important chapter of this book Abbas introduces the goals and achievements of Sir Syed's The Scientific Society which included Urdu translation of a number of books on history, political science and science. Devoted to Sir Syed's spirit of social reform, an important organ of The Scientific Society was The Aligarh Institute Gazette , a bilingual(sometimes multilingual) journal, which is a landmark in Urdu journalism. Abbas documents the nature of news, articles and editorials, published in the Gazette as well as its subscription policy, its main contributors, its popularity and its stance vis-à-vis the government of the day. We learn from Abbas that apart from Sir Syed, Maulvi Zakaullah, Maulana Shibli Nomani, Maulvi Samiullah, Haji Muhammad Ismaail Khan, Munshi Sirajuddin Ahmad, Syed Karamat Husain, Waheeduddin Saleem, and Khwaja Ghulaamus Saqalain contributed to the pages of the Gazette. Interestingly letters of Bhartendu Harishchandra, a pioneer of modern Hindi and certainly not a friend of Urdu, were also published in the Gazette. Professor Abbas's work on the Aligarh Institute Gazette and Sir Syed inspired many later scholars like Professor Shafey Kidwai to further broaden and refine his research.
Not confined to Sir Syed alone, Professor Asghar Abbas also wrote prolifically on Urdu poetry, satirical and humorous prose of Rasheed Ahmad Siddiqui and the aesthetic and artistic dimension of Urdu literature, editing and writing books regularly. His notable books on Urdu literature include   Sardar Jafri: Shakhsiyat aur Fan ,Rasheed Ahmad Siddiqui : Asaar -o- Iqdaar, Urdu ka Jamaliati Adab aur Aligarh.  Sir Syed, Iqbal aur Aligarh, Intikhab Zakaullah and Armughan-e-Suroor are some of his other books worthy of note.
Asghar Abbas Saheb was also full of practical wisdom. He often said that  seek personal friendships outside your department because that are more likely to last. A man who greatly valued human relationships and old values, Professor Abbas maintained very cordial relations with his friends and took personal interest in the intellectual interests and physical and emotional well- being of his students. His last book titled Ziyabaar Afraad ke Khutoot: Banaam Asghar Abbas, produced during the trying times of the covid lockdown, is a collection of letters written to him by his teachers, mentors, and friends over a period of half a century. It bears testimony to the respect that he commanded and admiration that he evoked from some of the most prominent names in Urdu literature who include, among others, men like Ale Ahmad Suroor, Asloob Ahmad Ansari, Imtiaz Ali Khan Arshi, Jilani Bano, Syed Sulaiman Nadvi, Shamsur Rahman Faruqi, Gopi Chand Narang, Malik Ram, Naiyyar Masood. Professor Abbas won the Maulana Azad Award of the Uttar Pradesh Urdu Academy in 2020.
Adieu Professor Asghar Abbas. Your valuable work and endearing personality ensure an afterlife for you in this world too.