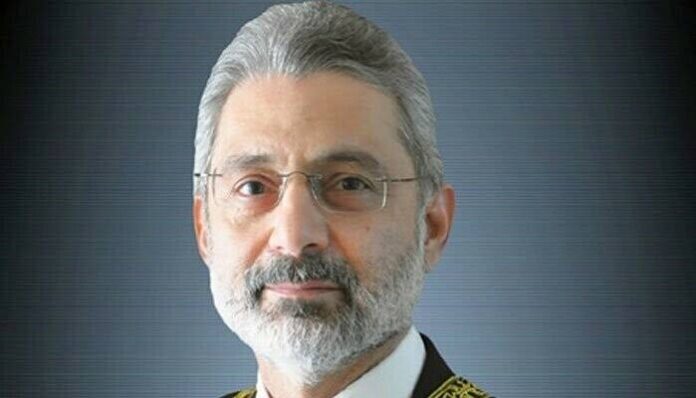 Justice Qazi Faez Isa, being the seniormost puisne Judge in the Pakistan Supreme Court, is tipped to be the next Chief Justice of Pakistan when the present CJP Justice Umar Aa Bandial retires on 16th September this year.
However, I have some serious reservations about his fitness for the post.
I do not doubt his integrity. He was the only judge in the Pakistan Supreme Court who, along with his wife, declared his assets. The reference to the Supreme Judicial Council of Pakistan against him was quashed by the Pakistan Supreme Court
https://www.aa.com.tr/en/asia-pacific/pakistan-top-court-dismisses-reference-against-judge/1883734
My reservations are about his judicial temperament.
A judge should be reclusive and observe certain restraints and self discipline, if he is to properly discharge his functions, but evidently Justice Isa does not believe in that. He went to Pakistan's Parliament on the occasion of the Golden Jubilee celebrations of the promulgation of the Constitution of Pakistan ( no other Supreme Court Judge went there, though all were invited ), sat among politicians, and addressed the members there, something which was grossly improper, particularly in the prevailing, highly charged political atmosphere in Pakistan, when a confrontation between the Supreme Court and the ruling PDM Govt is going on. He was rightly criticised for this.
https://www.aa.com.tr/en/asia-pacific/pakistan-top-court-dismisses-reference-against-judge/1883734
Of course he issued a clarification, but the question remains where was the need to go there at all ? Did he not realise that this could be misconstrued ?
https://tribune.com.pk/story/2411379/justice-isa-issues-clarification-on-attending-na-moot
When I became a Judge of Allahabad High Court in 1991 my seniors advised me to rarely accept invitations ( except by the Bar Association or family members ), and if I was in two minds whether to accept an invitation or not, I should not accept it, because by refusing it one loses nothing, but by accepting it one is taking a risk.
When I was Chief Justice of the Madras High Court, the Chief Secretary of Tamilnadu came to my chamber one day with a personal letter of the Chief Minister Ms. Jayalalitha inviting me to the Republic Day Parade the next day, where the Governor of the state would take the salute. I politely declined the invitation, and the real reason for doing so ( which of course I did not tell the Chief Secretary ) was that if in the function some politician with a bad reputation extended his hand to me for a handshake, and I had to take it, a photo of it may be published next day in the newspapers. What would be my position then ? So discretion is the better part of valour, particularly for a Judge.
I wish Justice Isa realised that.
Justice Isa also seems to lack the judicial discipline and temperament required of a judge. While presiding over a 2 Judge of the Supreme Court he defied a 5 Judge bench decision of the Court which said that only the Chief Justice could issue a suo motu notice, and he also challenged the prerogative of he Chief Justice to constitute benches ( this may recoil on him if he himself becomes the Chief Justice ).
https://tribune.com.pk/story/2409829/justice-isas-suo-motu-order-recalled
https://www.samaaenglish.tv/news/40030749
It is a well established rule that smaller benches of a court must accept decisions of larger benches, but Justice Isa evidently does not agree.
https://www.geo.tv/latest/481040-justice-isa-says-six-bench-note-cannot-set-aside-order-on-suo-motu
https://www.dawn.com/news/1746587
Justice Isa wrote a detailed note, posted on the Supreme Court website, about his stand, thus violating a well established, long standing, convention that judges should only speak through their judgements
https://dunyanews.tv/en/Pakistan/714105-Justice-Isa-raises-objection-to-six-member-bench%E2%80%99s-verdict-against-him
In this note Justice Isa said that the larger bench was "wrongly constituted" and did not have constitutional jurisdiction to override the March 29 interim order.
He also wrote " Once the gathering in a court of six distinguished judges was not permissible under the Constitution or under any law, the Supreme Court's order dated 29 March 2023 passed in Case No. 4 could not have been set aside by the 4 April Note ".
In highly improper language, which could only denigrate his own institution, he added in his note "Decisions emanating from a courtroom overcast with the shadow of autocracy cannot displace the Constitution ".
https://arynews.tv/justice-isa-objects-to-larger-bench-verdict-recalling-suo-motu-interim-order/
https://www.scribd.com/document/636901946/Justice-Isa-note
Justice Isa does not agree with the long standing convention in countries where judges sit on benches ( as in UK, India, Pakistan etc ), rather than all together ( as in the US Supreme Court ) that the Chief Justice is the Master of the Roster, having the sole prerogative of constituting benches. He and Justice Minallah wrote a note about this, thus violating the convention that judges should only speak through their judgements.
https://www.dawn.com/news/1744834
Justice Isa in his note ( not in a judgment ) says that the expression "Master of the Roster'' does not occur in the Constitution or any law, nor in the Supreme Court rules. He forgets that there are also well settled, long standing conventions which all institutions have, which have to be observed.
I was a judge in the High Court and the Supreme Court for 20 years, but I never challenged the prerogative of the Chief Justice to constitute benches, and sat in whichever bench the Chief Justice allotted to me. I never asked the Chief Justice to be posted on any particular bench, and never objected to being posted on an any bench.,
Only once I went to the then Chief Justice who had posted me to hear criminal matters, and told him that I had been a civil lawyer, and did not know much about criminal law, so I could pass wrong orders. He told me that I should sit on the criminal side for a month, and then tell me how I felt. After a month I met him again and said I had learnt a lot of criminal law, and now I was comfortable ( in difficult matters I would call senior reputed lawyers to my chamber and requested them to clarify the law on a particular point, which they always did ).
Justice Isa also ordered removal of the Registrar of the Court, forgetting that he is only a puisne judge, and only the Chief Justice, being the head of the Court administration, could pass such an order. If such an order is countenanced, every puisne judge of the Court could pass orders removing Court officials.
https://tribune.com.pk/story/2409673/justice-isa-seeks-sc-registrars-removal-for-discarding-his-suo-motu-verdict.
From all this it is evident that Justice Isa is a highly temperamental and indisciplined person, who goes by his whims and fancies, rather than by well settled, long standing conventions, and is entirely unfit to be the next CJP.