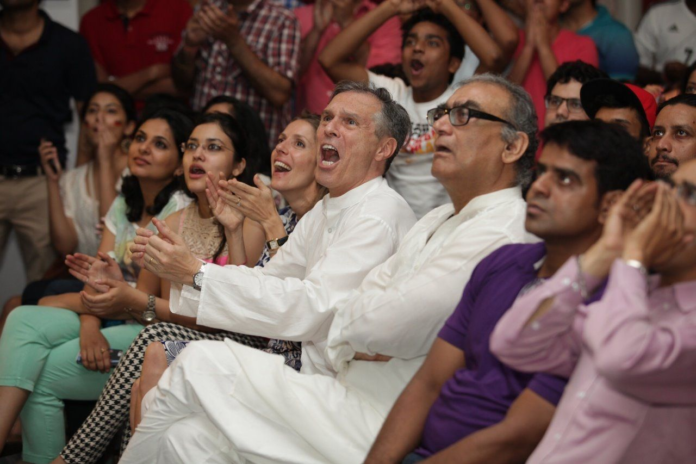 For watching the Germany vs Argentina World Cup football final in 2014 my friend Michael Steiner, then German Ambassador to India, invited a large number of people, including me, to see the match in the German Embassy.
The live match was shown on a huge screen set up in the lawns within the Embassy premises.
Before the match began we were served delicious German non veg and veg snacks, along with exquisite German wine and beer.
When the match began Michael asked me to sit between him and his beautiful wife Eliese in the front row ( see the pic above).
Throughout the match I cheered for the Argentina team, and got up in delight raising my hand when Argentina scored a goal, but was disappointed when it was declared offside.
Finally in the second half Germany scored a goal and won the match 1-0.
I congratulated Michael, but he could see from my countenance that I was sad at the result.
Next day Michael spoke to me on the telephone. He asked me why I supported Argentina when Germany was my host for the match.
I replied that it is my principle that I am always with the underdog. I always support the weak against the strong, the poor against the rich. Germany was a rich, powerful country, while Argentina was poor and backward. That was my reason for supporting Argentina.
I had nothing against Germans, in fact I love the German people, but it was a matter of principle for me.
Perhaps that is also my reason for wanting Pakistan to win the cricket World Cup tournament presently being played in India