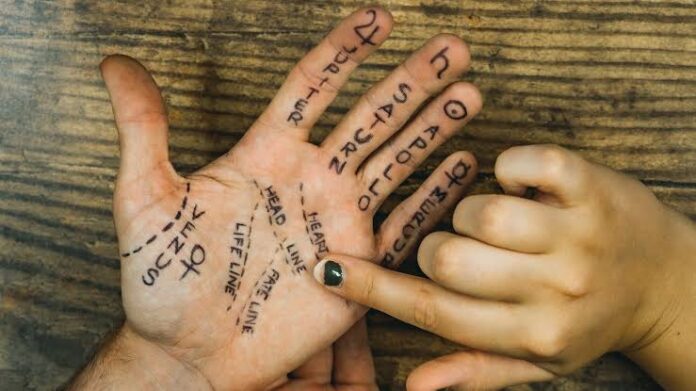 There is widespread belief in astrology and palmistry among Indians, which reflects poorly on their mindsets. Every day I see tweets of horoscope forecasts, which indicates many people believe in them. People are advised to wear clothes of certain colors, or certain precious stones, depending on their 'raashi', for success in some activity or to avoid a mishap. They often go to astrologers or palmists to know about their future and how to avoid a calamity and be successful
Astrology is prediction of future human affairs by study of the movements of the celestial bodies ( the sun, stars, planets, etc ).
Palmistry is future prediction by studying the palm.
Astrology and palmistry are superstitions, and pure humbug and poppycock. Even a little common sense can tell us there is no rational connection between our future lives and the movement of stars and planets, or the lines on one's palm. How can the movement of celestial bodies, or a look at one's palm, determine whether one will succeed in a business, or become a doctor, teacher, lawyer, scientist or artist, or die at 50 or 80 ? And how can that tell us how to avoid a misfortune or be successful in some activity ? Yet the vast majority of Indians believe in them, and it is believed that 30% citizens of USA, the most technically advanced country in the world, believe in astrology.
Astrology apps became popular in late 2010s in America, receiving millions of dollars in Silicon Valley venture capital.
After the attempted assassination of former US President Ronald Reagan, his wife Nancy commissioned a person as a secret White House astrologer.
 In Japan women born in 'hinoeuma' year are believed to bring bad luck, and have difficulty in getting married ( like 'mangali' girls in India ).
When I was appointed Chief Justice of Madras High Court I was advised not to take oath of office in 'rahukaalam' time, which is regarded inauspicious. Many Ministers, Judges, and others take oath of office only at the time advised by their astrologer.
A very senior lawyer of the Indian Supreme Court, who had been Attorney General of India, told me that many of his clients from south India ( who were all educated and well to do ) would tell him not to start reading his brief at 'rahukaalam' time.
The University Grants Commission of India decided to give grants to Indian Universities for teaching astrology, and consequently many Indian Universities opened astrology departments. This decision was challenged in the Indian Supreme Court, but the Court upheld the decision of the UGC
Following this decision the Bombay High Court held that astrology is a science
I saw on the internet that there is even an astrology University in India
Why do most Indians ( and people elsewhere ) believe in astrology, which is humbug and nonsense ? After all, many of such believers are otherwise educated, many even highly educated scientists, doctors, engineers, lawyers, etc
The reason is that in view of the low development of science in the world as yet, compared to what it will be in, say, a hundred years from now, the chance factor is still very powerful in our lives. We plan something, but something else happens. For instance, in my youth I intended to be a doctor, but ended up being a lawyer, and then a judge. A businessman plans in making his business successful, but often it is a failure. So people believe there are certain forces which control their lives, and seek to discover them. Due to the low level of scientific knowledge as yet, we are often unable to know these forces, or how they operate. Hence arose the belief since  ancient times that it is the celestial bodies ( or the lines on one's palm ) which control our lives and determine our future, and if we act in a certain way by studying the movements of these celestial bodies ( or one's palm ) we can avoid a calamity and be successful in our lives.
All this is of course nonsense and baloney, but a lot of people believe in it.
It is only when science has progressed to a very advanced level ( which may take another hundred years or so ) that we will be able to control our lives, and what we plan will happen. Till then many people will keep believing in astrology or palmistry, which, as mentioned before, are pure crap and superstition.