Every visit to The Indian Sunderbans is a unique mix of experiences. It is home to a wide range of aquatic, amphibian, and mammalian species. The overwhelming scenic beauty, complex riverine system, rich assemblage of flora and fauna, and most importantly the presence of the famous Royal Bengal Tiger in its dense, swampy, magical, and mystical mangrove forest areas have made this place one of the most sought-after destination for wildlife tourism in West Bengal as well as in India. However, a few in today's information age are aware of the fact that in addition to offering great wildlife experiences; Indian Sunderbans also has colonial vestiges of numerous human settlements scattered over its unique islands. Beacon's Bungalow and Hamilton's Bungalow located at Gosaba Island in the Indian part of Sunderbans are two such examples.
Beacon's Bungalow–A Memoir of Rabindranath Tagore
Gosaba Island (South 24 Parganas district, West Bengal) an otherwise remote location on the Bay of Bengal, has recently begun to take on fresh life as an emerging tourist destination in the Indian Sunderbans. According to the local historians, Sir Daniel Hamilton, a native of Scotland, was behind the settlement of Gosaba. As the head of the shipping firm Mackinnon & McKenzie, Sir Hamilton was one of the wealthiest men in British India. He acquired three islands, Gosaba, Rangabelia, and Satjelia; totalling approximately 40 square kilometres (i.e. 10,000 acres) of land from the then-British administration, and made it possible for development to occur in this remote region. The jungles of this coastal region were cleared between 1903 and 1907, and the villages started to sprout up. Regarded as a pioneer in the rural and economic development of Gosaba, Sir Hamilton started out helping the rural villagers how to weave shawls, encouraging them to improve their lot, and assisting them in establishing cooperatives to store their harvest. Sir Hamilton also encouraged the villagers to learn skills like cattle farming, fishing, horticulture, weaving, and carpentry to boost the rural economy.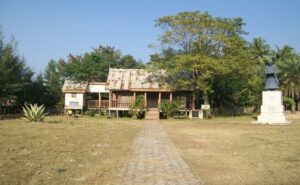 In 1903, Sir Hamilton constructed a single-storey bungalow in Gosaba island (around 100 km from Calcutta now Kolkata), which is later known as Beacon's Bungalow. This bungalow is no doubt an architectural marvel as it had been built on solid wooden stilts. When Nobel laureate Rabindranath Tagore visited Gosaba on December 29th, 1932 to witness the development initiatives made by Sir Hamilton in the Sunderbans region, he spent two nights at this very bungalow, located on the banks of the River Vidyadhari in the hospitality of Saheb. Tagore was deeply affected by this encounter, and as a result, he replicated the same types of development initiatives at Sriniketan and Santiniketan later. Beacon's Bungalow, being a memoir of Rabindranath Tagore has now become a standout attraction on the tourism map of Gosaba.
Hamilton's Bungalow– A Scottish Connection with the Indian Sunderbans
Hamilton's Bungalow at Gosaba Island is another well-liked tourist spot in Gosaba because of its historical evidence of being a memoir of Sir Daniel Mackinnon Hamilton. This Bungalow is located near the Gosaba Ferry Ghat and it was Sir Daniel's own house, where he spent a pretty long time. Similar to the Beacon's Bungalow, Hamilton's Bungalow is also another architectural wonder constructed by Sir Hamilton at Gosaba. This bungalow is also constructed on stilts. Many people think that this distinctive aspect of construction is what keeps these kinds of buildings safe. The Sunderbans is known for being cyclone-prone, and Gosaba has been battered by violent storms numerous times. While many ostensibly sturdier houses were destroyed, these delicate timber structures somehow managed to withstand the winds.
How to Reach to Gosaba, Sunderbans from Kolkata
[1] Via Roadways: From Kolkata, there are two bus routes to get to the Sunderbans. Route 1: Kolkata-Basanti Highway, and Route 2: Kolkata-Baruipur-Canning Highway. The Basanti Road connects to the Eastern Metropolitan Bypass near Science City, Kolkata. The distance from Kolkata to Gadkhali is approx. 100 Kms, and it takes more or less three hours to get there. The second option is to go down the Kolkata-Baruipur-Canning Highway. The distance is more or less the same; however, the second option takes more time. Here to be noted that Gadkhali is the entry point of the Sunderbans National Park and Gosaba main market is located just opposite to the Gadkhali Ferry Ghat.
[2] Via Railways: One must board the Sealdah-Canning Local train at Sealdah South station to travel to the Indian Sunderbans by train. Trains arrive at Sealdah every hour. However, the 07:40 AM Sealdah-Canning Train is the most suitable train. After arrival at Canning, you may share vehicle or if you can afford, you can reserve a Magic-van to get to the Gadkhali Ferry Ghat.
[3] Via Waterway: There are two main entry points to reach the Indian Sunderbans from Kolkata via waterways and these are: (1) Gadkhali, and (2) Jharkhali.
Best Time to Visit Sunderbans
Sunderbans is best visited between September and March for tiger and bird photography.