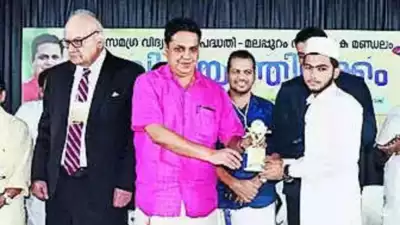 I sometimes use my status as a former Indian Supreme Court Judge to help people in distress. An example is given below.
Recently I had been invited to Mapappuram in Kerala in a function. Before the function some people informed me of an acute problem youth faced here.
It appears that students who pass the class 10 examination, many with 90-95% marks, cannot get admission in class 11 in science, engineering, computers or pre-medical courses, because of a great shortage of seats in colleges.
When I reached the jam packed hall where the function was held and came on the dias I found sitting next to me the Speaker of the Kerala Legislative Assembly, Mr AN Shamseer, many MLAs of different political parties, etc.
When my turn came to speak I spoke mainly about the above problem. I turned towards the politicians sitting in the front row and said " This problem should have been solved by you politicians. If you cannot you are no good, resign and go home. You are destroying the lives of these young people, who should become scientists, engineers, IT experts, doctors, etc It is a crime you are committing. If you dont solve the problem I will personally come in the next elections and canvass against you. Please inform the Chief Minister of Kerala Mr Vijayan about what I said ".
https://www.youtube.com/watch?v=iJupmbVwvSE&pp=ygUMa2F0anUga2VyYWxh
https://www.youtube.com/watch?v=ZuW2FgoZONQ&pp=ygVDanVzdGljZSBrYXRqdSBkZW1hbmRzIG1vcmUgc2VhdHMgZm9yIHBsdXMgMTAgc3R1ZGVudHMgaW4gbWFsYXBwdXJhbQ%3D%3D
There was huge applause at this, and the next day my speech was widely reported on TV and the newspapers.
https://l.facebook.com/l.php?u=https%3A%2F%2Ftimesofindia.indiatimes.com%2Fcity%2Fkozhikode%2Fquit-if-you-cant-solve-issuekatju%2Farticleshow%2F101680732.cms%3Ffbclid%3DIwAR0pfjGccmRxPcM2310nI6FuKX90R6T9Lv2SOU1ogLZqQtL_Yhd3sZMcCgk&h=AT00OVeAuiKmSPFE3uk5bOt8Zym3BkqdmXFLOFHBTj7JyLV5Yh_qLXriiKQIn_mpkJmjQQT3vfEVeM9UpLjyuebXeE-IY3S9jDLqI0aNvBZVByh-ocVlpXg5AHFCbmZhcLWv5L_Q9mv-3wh4TpfD&__tn__=-UK-R&c[0]=AT0liBG8FLOc0FNvnCcsn_YbqtlMNxzxuFnCW6znMX7nahCbpGzkqPZ9-fjWtwT9G-plZfpsKdKI5oyU4_sgkkQr86US4dpmIiuAqS2Jc_-ZE7ovfj5pnsE55tcRjej__eLpef-gSZIe8SRHVEBlIQ_m2G_L_4Sf0X0e8Dp_KVZHraspg6hstPaBES0nNsj1zMT4FmA-IvQc
https://www.youtube.com/watch?v=kr60vUXUc_Q
The Speaker said he will convey my demand to the Chief Minister.
On my return home I sent an email to the Chief Minister repeating my demand, and calling him to resign if he cant solve the problem.
https://english.janamtv.com/news/kerala/64069/markandeya-katju-urges-pinarayi-vijayan-to-resign/
Yesterday I got the good news that the Kerala Govt has acceded to my request, and has announced considerable increase in the number of plus 10 seats
https://www.newindianexpress.com/states/kerala/2023/jul/26/plus-one-seat-shortage-in-kerala-cabinet-announces-97-newbatches-2598805.html
https://www.thehindu.com/news/national/kerala/nod-for-97-temporary-plus-one-batches-for-malabar/article67123945.ece
https://english.mathrubhumi.com/education/news/plus-one-admission-sivankutty-announces-97-additional-batches-in-malabar-1.8763324
Now I am just a retired person, with no power or authority. But I suppose my being a former Supreme Court Judge gives me some muscle, and that seems to have shaken up the Kerala govt
I am happy I was of some use to the people of Kerala