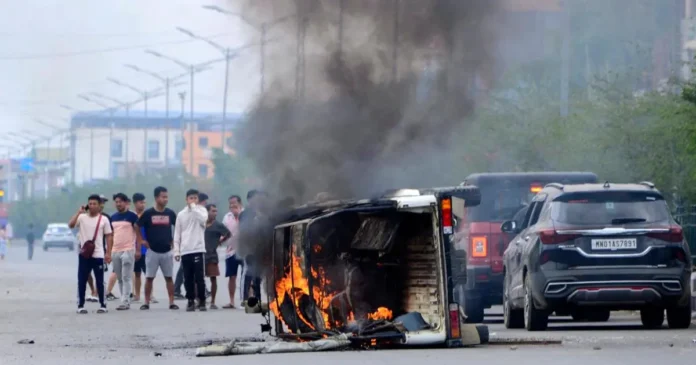 Today I met in Delhi two Professors of a University in Manipur. They told me they are here in Delhi because their University is closed down sine die.due to the violence in Manipur.
Since I did not know what exactly happened in Manipur, I requested them to explain to me. They said they will do so on condition that their names be not disclosed. This is what they said :
In Manipur most people who live in the plains are Hindus, who support the BJP Govt of Manipur whose Chief Minister is Biren Singh. On the other hand, the people living in the hills around the plains in Manipur are Nagas and Kukis who are Christians, and are treated as Scheduled Tribes (STs )..
The Meiteis are economically better off as compared to Nagas and Kukis, and are better educated and have greater political representation in the state assembly.
There is a law in the state of Manipur which says that Meiteis cannot buy land in the hills, which are reserved for STs i.e. Nagas and Kukis. Also, certain seats in educational institutions and govt jobs are reserved for the STs.
The trouble began when a single judge, the Acting Chief Justice of Manipur High Court, Justice Muralidaran passed an order that the state govt should consider including Meiteis among the Scheduled Tribes
https://m.economictimes.com/news/politics-and-nation/manipur-high-court-order-to-include-meiteis-in-st-list-rrong-cji/articleshow/100312542.cms
https://thewire.in/law/supreme-court-manipur-hc-meitei-scheduled-tribes-list
https://scroll.in/latest/1049253/manipur-high-court-order-on-scheduled-tribe-status-for-meiteis-is-factually-wrong-says-sc
An appeal was filed in the Supreme Court against this order, but the Supreme Court, while expressing its displeasure, did not stay the order, perhaps because an appeal had been filed against it before a two judge bench of the High Court, where it is pending.
Justice Muralidaran's order raised an apprehension in the minds of the Kukis and Nagas that their lands in the hills will be grabbed by Meiteis, and that Meiteis will get a share in admissions to educational institutions and govt jobs reserved for STs like Kukis and Nagas
https://www.reuters.com/world/india/why-is-indias-manipur-state-grip-ethnic-violence-2023-07-21/
Consequently Kukis and Nagas started an agitation, which led to violence, including burning of churches, rape of women, two Kuki women paraded naked, and killing of 142 people.
https://en.wikipedia.org/wiki/2023_Manipur_violence
https://www.bbc.com/news/world-asia-india-66260730
https://www.indiatodayne.in/manipur/story/manipur-violence-7-kuki-zomi-women-raped-8-bludgeoned-to-death-5-shot-dead-claims-vaipei-peoples-council-619416-2023-07-23
https://www.ndtv.com/india-news/manipur-women-paraded-naked-video-manipur-violence-1-more-arrested-amid-massive-manhunt-over-horrific-manipur-video-case-4231123
https://www.aljazeera.com/news/2023/7/10/no-end-to-deadly-violence-in-indias-ethnically-divided-manipur
Kukis were forcibly evicted from their homes in some villages
https://www.thequint.com/opinion/manipur-violence-unease-over-land-st-status-worsening-meitei-kuki-mistrust
10 tribal MLAs, including a BJP tribal MLA, have alleged state complicity in the violence
https://www.ndtv.com/india-news/manipur-women-video-manipur-violence-latest-proof-of-state-complicity-manipur-bjp-mla-paolienlal-haokip-claims-ethnic-violence-was-avoidable-4234147
In my opinion 3 steps must immediately be taken to remedy the situation :
(1) The Manipur govt must be dismissed, and the state be placed under Central rule, as it is a clear case where Article 356 of the Constitution should be invoked.
Article 356 states :
" If the President, on receipt of report from the Governor of the State or otherwise, is satisfied that a situation has arisen in which the government of the State cannot be carried on in accordance with he provisions of this Constitution, the President may be Proclamation
(a) assume to himself all or any of the functions of the Government of the State and all or any of the powers vested in or exercisable by the Governor or any body or authority in the State other than the Legislature of the State;
(b) declare that the powers of the Legislature of the State shall be exercisable by or under the authority of Parliament "
It is obvious that the government of Manipur is unable to carry on functioning in accordance with the provisions of the Constitution since it has taken a partisan approach to side with the Meiteis, and against the Kukis and Nagas, and is unable to control the ethnic violence.
(2) Police officers who sided with Meiteis or turned a Nelson's eye to the violence must immediately be suspended and charge sheeted
(3) A petition should immediately be filed before the National Human Rights Commission, Delhi