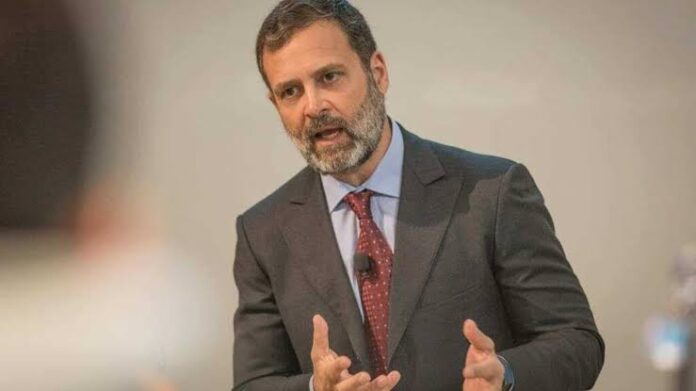 Recently Rahul Gandhi, a leader of the Congress Party in India, spoke in Cambridge University in England.
https://www.youtube.com/watch?v=TT-HolbE5R4&pp=ygUwcmFodWwgZ2FuZGhpJ3Mgc3BlZWNoIGluIENhbWJyaWRnZSBpbiB1bml2ZXJzaXR5
The thrust of his speech was that democracy was a good thing, but democracy and democratic institutions were in danger in India ( under the ruling BJP party ).
Now it is true that ever since the BJP came to power in 2014 there has been a sustained attack on institutions in India, on freedom of speech and the media, on liberty, on minorities, etc. However a deeper analysis is called for.
The Constitution of India, promulgated in 1950, provided for parliamentary democracy, as practised in England. In actual practice parliamentary democracy in India is largely run on the basis of caste and religious vote banks, as everyone in India knows. In other words, when most Indians go to vote in elections, they do not see the candidate's merit, whether he is a good man or bad, educated or not, but only see his caste or religion ( or the caste or religion his party represents ), nor do they consider vital issues like poverty, unemployment, price rise, etc. In fact that is why there are so many persons with criminal backgrounds in our legislatures.
Apart from Parliament, there are 28 states and 8 Union Territories in India, and elections are being held or prepared for somewhere or the other every 6-8 months. Recently we had elections in some north eastern states, and now preparations are being made for holding elections in the state of Karnataka in May this year. Thereafter there will be elections in Madhya Pradesh and Mizoram in November, followed by elections in Rajasthan and Telengangana in December. In 2024 there will be Parliamentary elections.
Thus, India is perpetually in an election mode,and our political leaders devote most of their time and energy in elections, leaving little time for caring for the welfare of the people..
As mentioned above, these elections are fought largely on caste and communal lines. Casteism and communalism are feudal forces which have to be destroyed if India is to progress, but parliamentary and state elections further entrench them. How then can India progress under such a system ? We have obviously to create an alternative system under which there is rapid industrialisation and economic development, for only then will millions of jobs be created and there will be prosperity for all, But how can such an alternative be created ? Rahul Gandhi in his speech ignored these vital questions, and he evidently has no clue about the answers. In fact it is obvious he wants no alternative, but wants Congress to come to power within the present system, by winning in the next parliamentary elections..
The test of every political activity and political system is one, and only one : does it raise the standard of living of the people, does it give them better lives ? Today in India there is massive poverty, malnutrition, unemployment, inflation, lack of good healthcare and good education, etc.
Global Hunger Index, a reputed international agency, has said that India has slipped from position number 101 to 107 out of 121 countries surveyed regarding hunger, and is behind neighbouring countries like Pakistan, Nepal, Bangladesh and Srilanka. Every second child in India suffers from malnutrition, and many are stunted and wasted.
https://m.economictimes.com/news/india/level-of-hunger-in-india-serious-ranks-107-on-global-hunger-index-2022/articleshow/94876759.cms
Inflation in India has skyrocketed, and even prices of essential commodities like food is at an all time high
.https://www.hindustantimes.com/india-news/retail-inflation-shoots-up-to-3-month-high-of-6-5-in-jan-as-food-prices-bite-101676312602815.html
Recently, the price of a gas cylinder, which was already very high, was increased by Rs 50
https://www.livemint.com/news/india/domestic-lpg-cylinder-price-hiked-by-50-from-today-check-latest-rates-in-delhi-mumbai-kolkata-chennai-
11677634195789.html#:~:text=With%20the%20latest%20revision%2C%20the,rates%20are%20effective%20from%20today.
There is massive unemployment in India. Accurate data are not available, but one can get an idea from the links below. For even a job of a chaprasi ( peon ) which is advertised, there are thousands of applicants, some holding a Ph.D, M.Sc, MBA or engineering degree.
https://m.economictimes.com/news/politics-and-nation/over-93000-candidates-including-3700-phd-holders-apply-for-peon-job-in-up/articleshow/65604396.cms
https://www.quora.com/How-do-you-interpret-the-news-that-more-than-2-3-million-including-many-PhDs-post-graduates-and-Engineers-applied-for-368-posts-of-peon-in-UP
Rahul Gandhi did not deal with these issues at any length in his speech, and it is doubtful he has any clue about the solution to these huge problems of India. He seems to be a totally empty headed man, and all he wants is to come back to power, as he regards himself the heir to the throne of India, which rightfully belongs to India's Bourbons or royal family, the Gandhis, who out of power are feeling like a fish out of water.